Short Path Molecular Distillation
Single stage Wiped Film Molecular Distillation for laboratory plants
Brand :HXCHEM
Product origin :China
Delivery time :20 days after payment
Supply capacity :5sets/ month
Full-spectrum CBD: Contains a variety of cannabinoids, flavonoids, and terpenes, THC ratio less than 3%.(After extracts, Short path distillation available for high requires)
Broad Spectrum CBD:Full spectrum cannabinoid except for THC(Muti-stage distillation, chromatography available for high requires)
CBD isolate:CBD isolate is pure cannabidiol, all by itself. (Muti-stage extracts, distills and chromatography)
Single stage Wiped Film Molecular Distillation for laboratory plants
Introduction
Thin film molecular distills system of cannabis extracts
CBD oil product you can see in the shop, includes Isolate, full-spectrum CBD, broad-spectrum, and a variety of other adjectives.
Full-spectrum CBD: Contains a variety of cannabinoids, flavonoids, and terpenes, THC ratio less than 3%.(After extracts, Short path distillation available for high requires)
Broad Spectrum CBD:Full spectrum cannabinoid except for THC(Muti-stage distillation, chromatography available for high requires)
CBD isolate:CBD isolate is pure cannabidiol, all by itself. (Muti-stage extracts, distills and chromatography)
Effective method for cannabis distillation, the molecular short path distillation aims to obtain high grade THC, CBD concentrates for shatter, vape pens, tinctures, hash oil, edibles, and other forms. HXCHEM provide customer with a turn-key solutions optimized for cannabinoid work.

System includes:

Feeding system(including pre-heating and degassing stage)

Short path evaporator(SPE)

Cold trap

Collection systems for distillate and residue

Heating and cooling systems

Vacuum system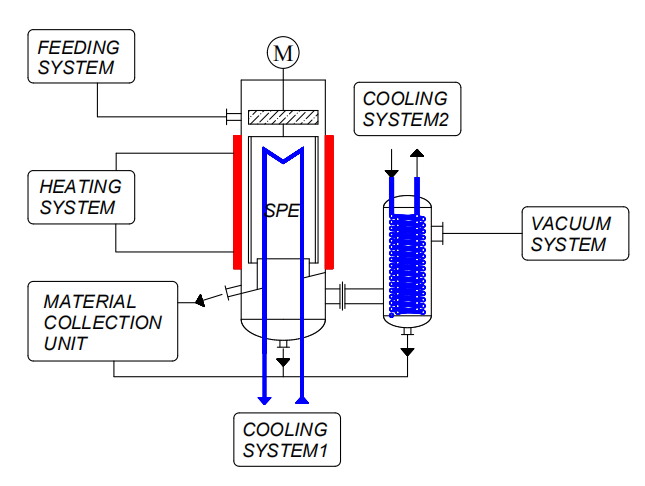 Product Features
High heat transfer efficiency, fast evaporation speed and short material residence time.

Heating area:0.05m2~2m2 available for 10kg/hr to 100kg/h production.

Continuous distillation process; Low fouling on evaporator wall

Trace heating of individual sections (feed, residue and distillate) for melting or viscous products

SPE constructed of Borosilicate glass, stainless steel or other special materials and alloys

Different wiper systems are selected depending on the product properties

The chilling units for the external condenser and cold trap.

Floor stand or moveable cart design
Technical Requirements
Model

SPD-0.05

SPD-0.1

SPD-0.2

SPD-0.5

SPD-1

Effective heating area (m2)

0.05

0.1

0.2

0.5

1

Inner condenser area (m2)

0.075

0.2

0.35

1.8

3.5

Feeding rate (kg/h)

0.4~5


1~10

5~15

8~25

15~80

Motor (kW)

0.06


0.06

0.09

0.55

0.55

Cold trap area (m2)

0.15

0.2

0.4

1

2

Dimension (WxDxH) m

1.7*1*1.7

2*1*2

2.2*1*2.5

2.5*1*3.2

2.7*1*4.5

Vacuum level (mbar)

0.001 mbar to 1 mbar

Working temp.(℃)

Up to 300℃

Feeding mode

Pressure differential valve;High-precision gear pump;Peristaltic pump

Collection mode

Glass collection flask;Stainless steel tank;High-precision gear pump

Can be customized according to customer's requirements.
Note: Data in the table are standard specification. The specific size is based on the customer's demand.

Product Drawing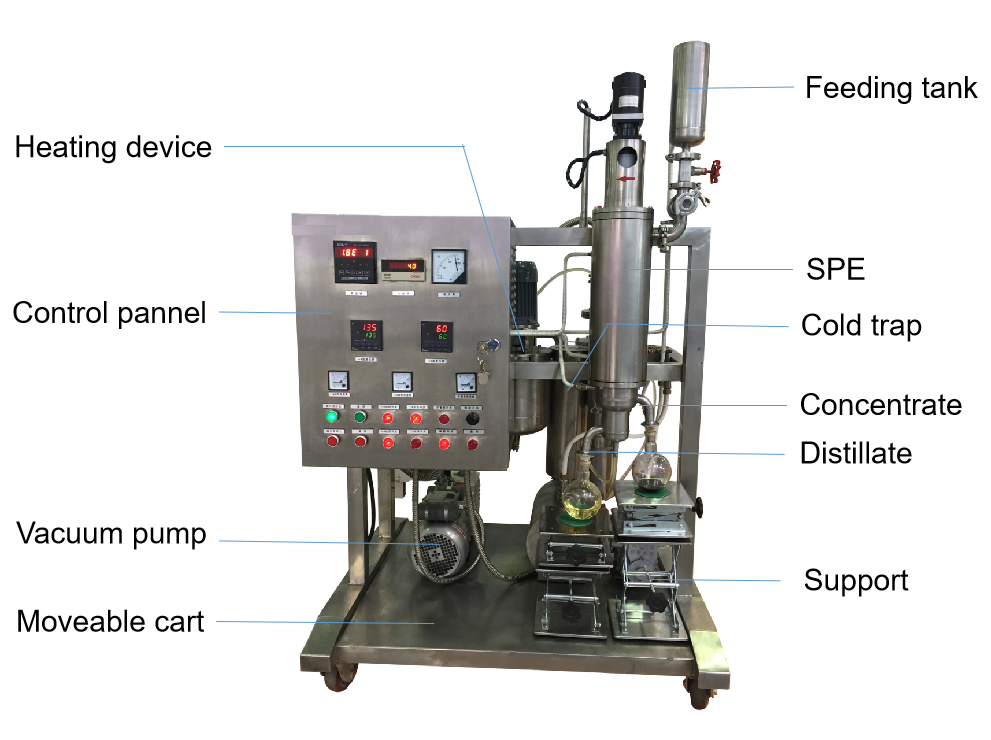 Cannabis(CBD) Process

Thin Film Evaporators (TFE) and Short path distillation(SPD) are extensively used for solvent recovery, purification, concentration, distillation that involve high viscosity, high boiling points and heat sensitivity. With extensive experience and expertise in cannabinoid processing equipment, our TFE and SPD are the solution. We provide our experience and cases, professional engineering services, and technical consulting for all distillation process.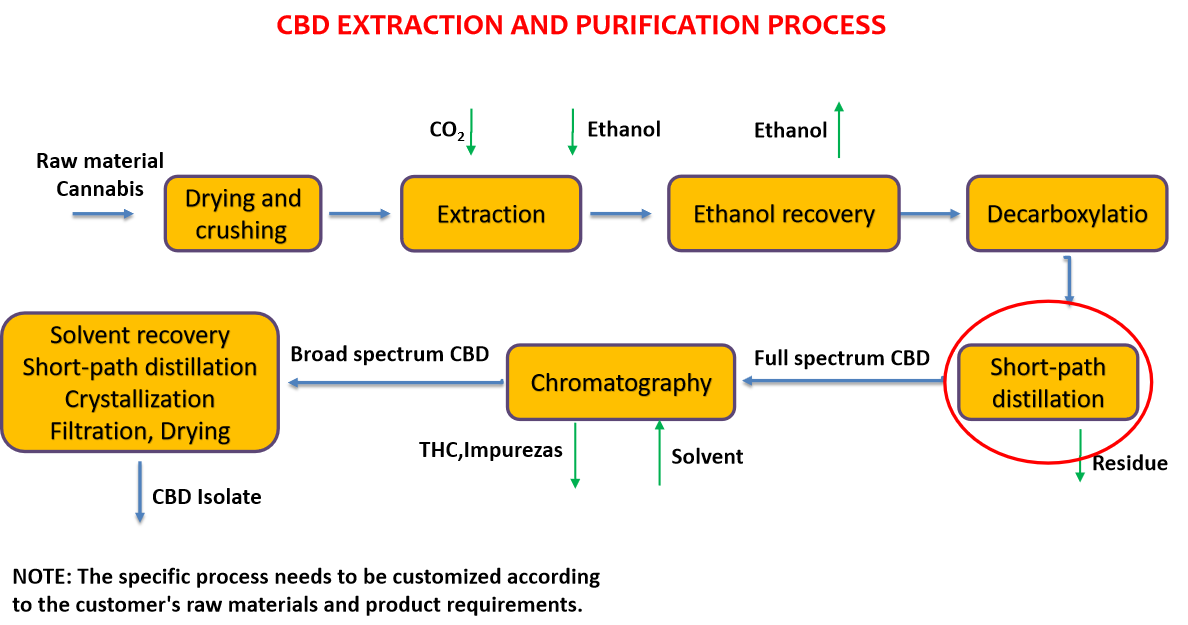 Main proessing equipment

Thin film distillation for ethanol recovery

Extraction Equipmen(Sovent centrifuge and supercritical type)

Short Path Distillation(molecular distillation) for CBD purification

Chromatograohy

Rotary Evaporators for ethanol recovery
Get the latest price? We'll respond as soon as possible(within 12 hours)