Impeller Type
Anchor, Frame and Gate Type High Viscosity Impeller
Brand :HXCHEM
Product origin :China
Delivery time :10 days after payment
Supply capacity :5sets/ month
This kind of stirrer is a slow stirrer, which is suitable for mixing, heat transfer or reaction of medium and high viscosity liquids.
Laminar flow type impeller.
Pitched blade or certain angle steel blade will strenth the turbulence near the impeller.
Blending Operations.
Appication: Paint industry; Molecular sieve.
Screw belt impellers | Frame type impeller | Anchor impeller
Anchor, Frame and Gate Type High Viscosity Impeller

Introduction
This kind of stirrer is a slow stirrer, which is suitable for mixing, heat transfer or reaction of medium and high viscosity liquids. It is often operated in the laminated installation to produce horizontal circular flow. Equipped with the pitched blade or certain angle steel blade, the eddy current near the blade can be increased. The paddle and beam can be added as needed to increase the mixing range.
High viscosity impeller | Ribbon agitator | Helical agitator | Double spiral impellers
Product Features
? Laminar flow type impeller.
? Pitched blade or certain angle steel blade will strenth the turbulence near the impeller.
? Blending Operations.
? Appication: Paint industry; Molecular sieve.
Technical Requirements

Diameter of impeller: 30~2000 mm

Diameter of shaft: 10~300 mm
QTY of impeller: 4, 6, 8, 10..
Available material:CS, SS304, SS316, Titanium, Nickel, Hastelloy B/C, Monel, Zirconium, Inconel, Tantalum
Structure Drawings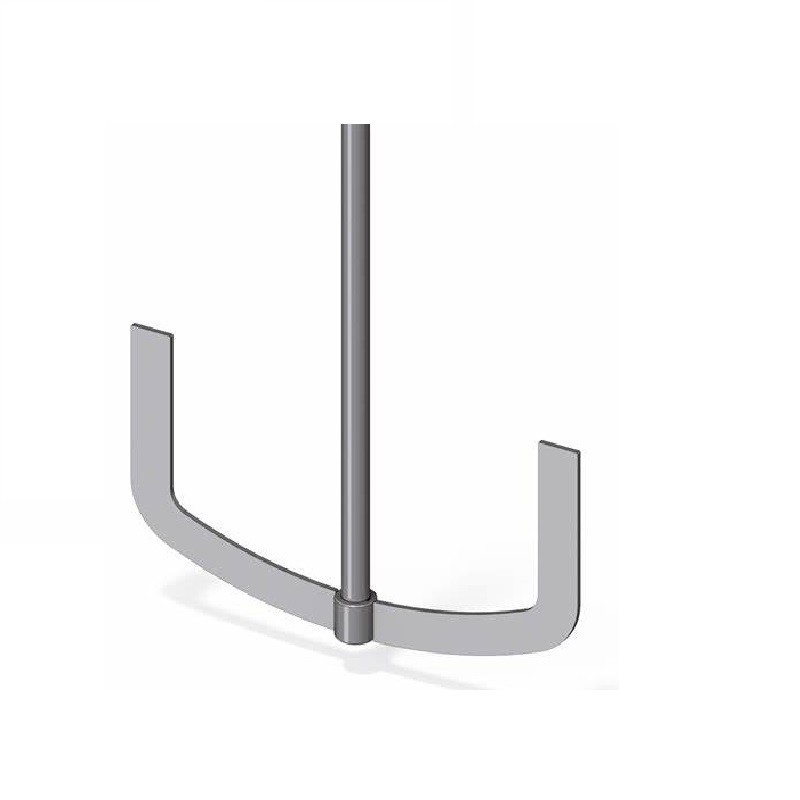 Quick Selection

Type
Mixing speed
Application
Feature

Marine propeller

Broad blade Propeller

100-500r/min
Low viscosity

Low shear, low energy consumption

Strong circulation

High-speed operation

Paddle type

Straight blade

Pitched blade

Curved blade

50-200r/min

Medium viscosity

Close to the tank wall

Heavy duty, slow operation


High energy consumption


Inefficient mixing

Turbine type

Straight blade

Pitched blade

Curved blade

50-350 r/min

Low viscosity

Medium viscosity

Medium shear and cyclic

Medium speed operation

Suitable for medium equipment

Disk turbine

(Flat blade, pinched blade,

curved blade, )

100-350 r/min

Low viscosity

Medium viscosity

Strong shear, gas dispersion

Medium speed operation

High energy consumption

Frame type

Anchor type

Helical Blade

20-150 r/min
High viscosity

Low shear and speed

Strong cycle ability

High energy consumption

Self inducing type

200-500 r/min

Liquid-gas mixing


Strong self-inducing capacity

High gas consumption

High speed operation
Get the latest price? We'll respond as soon as possible(within 12 hours)